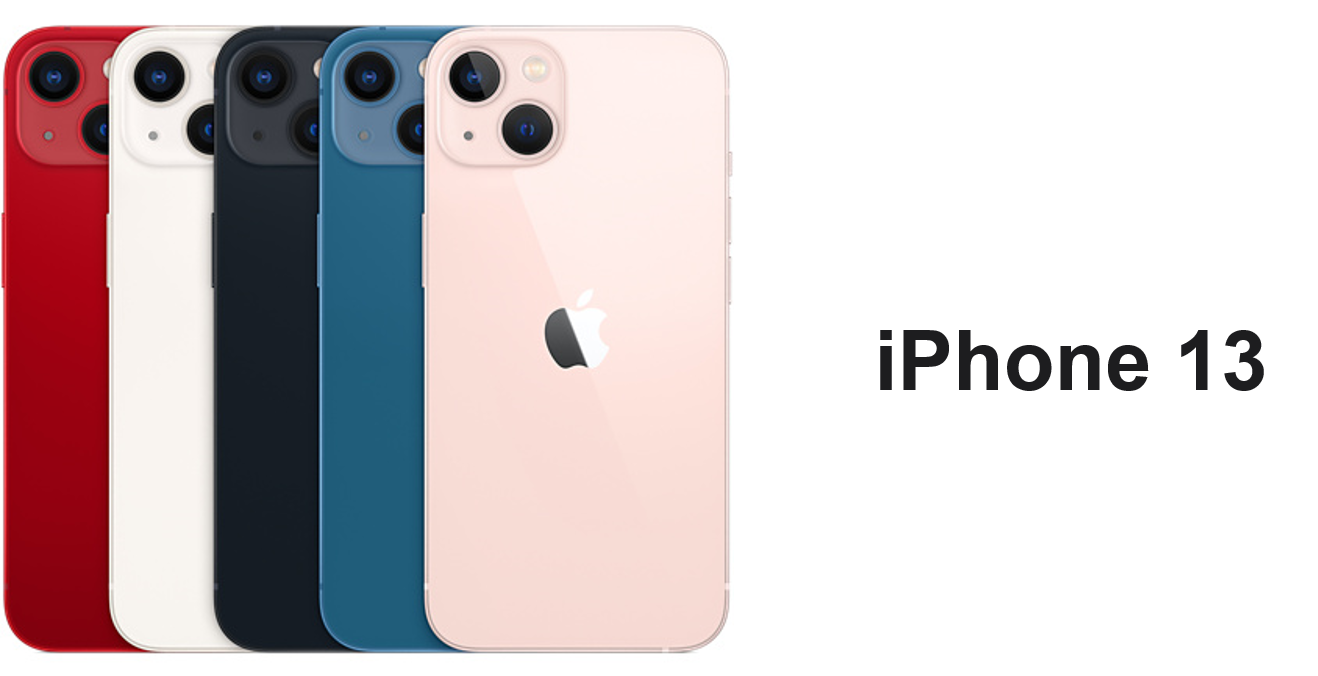 APPLE IPHONE 13 5G
Your new superpower.
How did we get such a huge camera upgrade to fit?

We designed a totally new architecture and turned the lenses 45 degrees to fit in our best dual-camera system ever — with its biggest Wide camera sensor. We also made room for our sensor-shift optical image stabilization. And we equipped the Ultra Wide camera with a faster sensor.
iPhone went to film school, so you don't have to.
Presenting Cinematic mode
Filmmakers use a technique called rack focus — shifting focus from one subject to another — to guide the audience's attention in their movies. Now iPhone makes it easy for you to bring the same storytelling technique to your videos.
Cinematic mode automatically creates beautiful depth effects and focus transitions
Just start recording and Cinematic mode will hold focus on your subject while creating a beautiful depth-of-field effect all around them. Cinematic mode can also anticipate when a prominent new subject is about to enter the scene and automatically shift focus when they do. Now you can effortlessly create videos that look and feel like the movies.
You can even adjust the depth effect after you shoot
Want to change the focus or adjust the blur after shooting wraps? No problem. iPhone lets you do it with a few taps and swipes. Even pro movie cameras can't do that.
Take a great photo without lifting a finger.
OK, one finger
Night mode senses low-light scenes and automatically adjusts to take bright, clear photos with amazingly rich colors.
Portrait mode artfully blurs the background to put the focus on your subject. You can try out six creative lighting effects with a swipe.
Smart HDR 4 now recognizes up to four different people in a scene and optimizes contrast, lighting, and even skin tones for each one. So everybody looks their best.
Deep Fusion activates in mid- to low-light scenes. It analyzes multiple exposures pixel by pixel to capture the subtlest textures, patterns, and details.
The Ultra Wide camera gives you a wide field of view even when you're right up close to what you're shooting. So you can capture more of the scene without stepping back.
Memories are automatic slideshows created from meaningful moments in your photo library. Personalize them with your own look and feel — or even a soundtrack from your music library.
A camera with a style all your own.
Introducing Photographic Styles
Styles are smart enough to do things like boost or mute colors while keeping skin tones natural. Photographic Styles create a personal look for your photos. But unlike filters, styles selectively apply adjustments to the right areas, while preserving skin tones. Choose Vibrant to make photos bright and vivid. Rich Contrast for darker shadows and deeper colors. Warm or Cool to accentuate golden or blue undertones. Preset, ready, go! Just choose a style once — like Vibrant, shown here — and your photos will automatically have that look.
A front camera that doesn't take a back seat.
The TrueDepth camera system has all the latest features from the back cameras:
* Cinematic mode
* Photographic Styles
* Dolby Vision HDR recording
* Portrait mode
* Night mode selfies
* Smart HDR 4
* Deep Fusion and more
for a whole new stratosphere of selfies. A15 Bionic and the TrueDepth camera also power Face ID, the most secure facial authentication in a smartphone. 2x the storage iPhone 13 starts at 128GB for all your photos and videos.
Supercolor​pixelistic​XDRidocious.​
Super Retina XDR display
Superbright
Our OLED display gets 28 percent brighter, up to 800 nits, so it's easier to see in full sunlight. And it still goes up to 1200 nits for HDR content. You'll notice bright whites, true blacks, and every shade in between. Yet the display conserves power better than ever.
Supercolorful
iPhone 13 features a cinema standard wide color gamut, displaying colors just as filmmakers intended. And with precise color accuracy, everything on the screen looks remarkably natural.
Supersharp
The Super Retina XDR display has an ultrahigh pixel density, so photos, videos, text — whatever you're viewing — looks extra-sharp. And the display is even more expansive, thanks to a smaller TrueDepth camera area.
Raises the Battery
Up to 2.5 hours more battery life on iPhone 13. | Up to 1.5 hours more battery life on iPhone 13 mini.
A15 Bionic is a
 speed-boosting
camera-elevating
reality-augmenting
power-optimizing
privacy-protecting
game-changing chip
The lightning-fast A15 Bionic powers Cinematic mode, Photographic Styles, Live Text, and more. Its Secure Enclave locks down personal info like your Face ID data and contacts. And it's more efficient, helping to deliver longer battery life.
No one does 5G like iPhone.
The world is quickly moving to 5G. Streaming, downloading — everything happens so much faster. 5G is even fast enough for serious multiplayer gaming, sharing AR videos, and more. With Smart Data mode, iPhone will downshift automatically to save power when you don't need all that speed.
In touch. In the moment.
iOS 15 makes it even easier to find and enjoy the great content shared from friends and family in Messages. Stay in the zone by filtering out any notifications that aren't relevant to the task at hand. And interact with text in images to quickly send emails, make calls, get directions, and more.
Privacy is built in
iPhone helps put you in control of your personal information. For example, Privacy Nutrition Labels help you see how apps use your data. Apps need your permission to track your activity across other companies' apps or websites. And that's just for starters.
Good design is good for the planet.
Our stores, offices, data centers, and operations are already carbon neutral. By 2030 our products — and your carbon footprint from using them — will be, too. This year we eliminated the plastic wrap around the iPhone 13 and iPhone 13 Pro boxes, saving 600 metric tons of plastic. And our established final assembly sites now send zero waste to landfills.