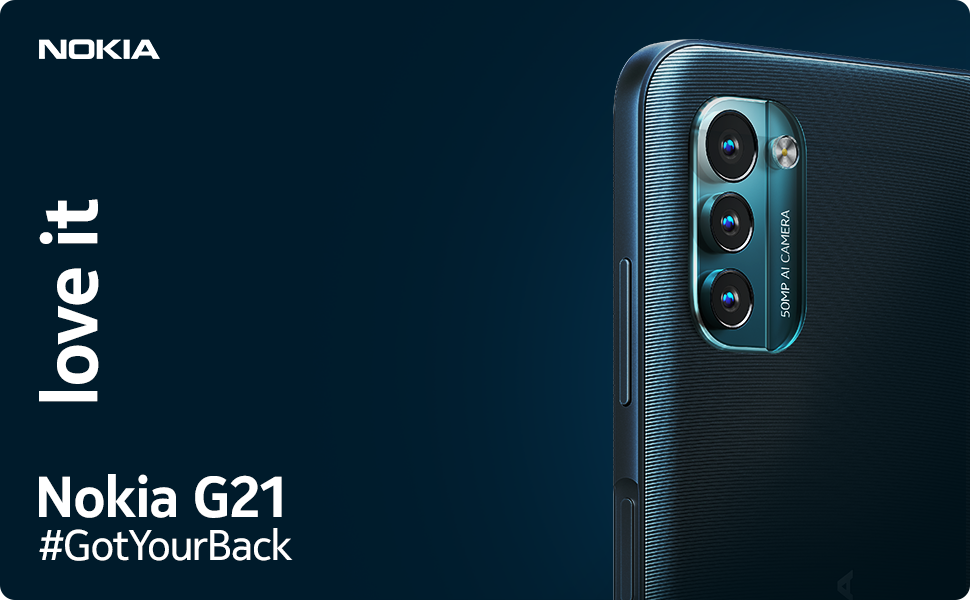 NOKIA G21 4G
Overview
Enjoy more of what you love for longer, on a bigger, brighter screen. Nokia G21 combines a jaw-dropping 3-day battery-life with seamless performance – plus a breathtaking 50 MP camera featuring AI imaging technology. It's super-tough too, inside and out, with a sleek polycarbonate shell, 2× more security updates than the competition, 2 years of OS updates and a 30-day trial of ExpressVPN.
Battery
3-days is a long time. Especially for a battery
Life is full of adventures, and who knows where life will take you in three days. Luckily, Nokia G21 has a whopping 3-day battery life – so if you find yourself away from a phone charger because you're living life to its fullest – you're in luck. It also comes with 18W fast charge capability to top up your battery quicker when needed.
Updates
Stay up-to-date and safe
Stay up to date with 2 years of OS upgrades and stay safe with 2× more security updates than the competition.
Camera
50 MP triple camera with AI imaging
Taking good photos is hard. At least, it used to be. With Nokia G21 and its 50 MP triple-camera, including main, depth and macro lenses, taking quality photos is a cinch. It also comes equipped with advanced low light imaging, so you'll be able to bring all your amazing ideas to life.
Display
A faster refresh rate, on a big screen
We've given Nokia G21 a big 6.5" screen. So, you can use it to show off your latest short film, or curl up under the blanket and watch somebody else's. It also comes with a 90Hz refresh rate, so scrolling social media and photos looks amazingly smooth.
Everything you want to hear, and more
All of the tracks and podcasts you know and love — and millions you've yet to discover. Nokia smartphones now come pre-installed with Spotify, the world's most popular audio streaming service. That puts you just a few touches away from the biggest songs from the biggest artists in the world. Ready to play every week on Spotify.
Make connections, discover opportunities
Nokia smartphones now come pre-installed with LinkedIn – the world's largest professional network. In just a few clicks, you can connect with members from all backgrounds and experiences, discover new opportunities, and help take your career further.